Tycoon Richard Branson was entertaining guests and family yesterday in his $70 million Caribbean mansion. Guests included, starlet Kate Winslet who now is a life saver, literally. Nick Lachey and Vanessa Minnillo got married in the $70 million mansion just last month. (What a"kag!") If they would have waited another month their wedding would've had to be at a different & less blissful location.
The house erupted in raging flames when the $70 million Caribbean mansion was hit by lightning at which time Richard Branson was away from the grand house about 10 yards away. Richard Branson was in the house next door "in the island," when he heard people screaming. When he looked back he saw his $70 million Caribbean mansion engulfed in flames.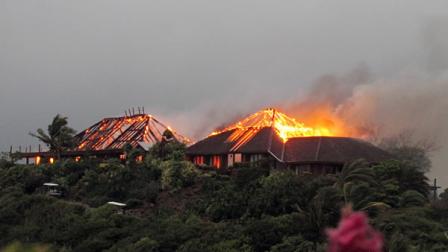 Richard Branson told CBS News: " I was woken up with people screaming and looked over, saw the whole house engulfed in flames, and just ran stark naked to the house to try to get people out. I had my daughter, my mother, lots of nephews and nieces. … Obviously, the first priority was to rescue everybody, and fortunately, everybody got rescued."
The details to Richard Branson's story are a little bit confusing, because if he was in the house next door, why does he also, say he was "in the island." And he was "naked." So was he sleeping naked in the house next door or was he in the island prancing around naked? It's just all so curious.
However, Richard Branson is very thankful that everyone got out of the burning $70 million Caribbean Mansion safely. Asides from guest, Kate Winslet being there. His nephews nieces and daughter were inside the house along with his 90 year old mom that although she can still walk, Kate Winslet swept in the "up in flames" $70 million Caribbean mansion and scooped and carried out Richard Branson's mom out like a true hero.
During the horrific fire in Richard Branson's $70 million Caribbean mansion several things were destroyed which include photos and a second autobiography that  Richard Branson was working on (Don't worry buddy, we know you're a very rich dude.) However,  Richard Branson is just happy that his family and friends were not hurt by this unprecedented catastrophe.
Tags:
$70 million Caribbean mansion
Kate Winslet
life saver
naked
Nick Lachey
Richard Branson
tycoon
Vanessa Minnillo