This year is all about the 2012 Olympic Games that is held in London. These athletes practice for years to be able to compete in the games and of course they want to win as well. The Olympic Games is the event of the year which features summer and winter sports. There are thousands of athletes both men and women that participate in the competitions to win the gold medal. What makes the Olympic Games pretty cool is that there are around 200 nations that compete to which their athletes are there to represent that nation and where they are from.
Another thing that makes the Olympic Games interesting is all of the hot and sexy women athletes that compete. These ladies are fit and extremely sexy. Who doesn't like a woman who can be competitive and yet so damn sexy in the bedroom? Here are some of the Hottest 2012 Olympic Female Athletes:
1. Federica Pellegrini:
She is the Italian swimmer who was the first woman to ever breach the 4 minute barrier in 400m freestyle. Pellegrini's body is all around sexy and tone; which was featured completely naked for the cover of Italian Vanity Fair.
2. Stephanie Rice:
This Australian swimmer has won three gold medals during the Beijing Olympics some years back. Last month she received heat for posting a racy picture of herself on Twitter and guess what she was wearing; a bathing suit. Yeah, I don't know why it was made into a big deal she is a swimmer who wore a bathing suit. Anyways, her body is flawless and so damn hot!
3. Brazilian Volleyball Team:
There is no way we can choose only one hot woman, plus the whole damn women's team have incredible bodies and let's not forget their sexy Latina butts! Yum yum! Lets just face it and say that entire team is eye candy.
4. Alex Morgan:
She is one of the U.S soccer players who just so happens to be the champion as well. She scored the first point for her team this year and we are sure she has scored many other points too. This babe has beautiful blue eyes and legs that make you want to crawl up on.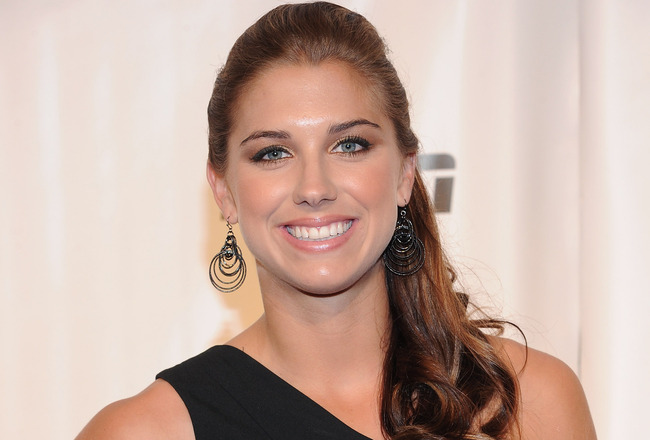 5. Leryn Franco:
She is a sexy little number as she has modeled in the past for many magazines and she even won runner up in the Miss Universe Paaraguay contest.

Make sure you all watch the Olympic Games this year and don't forget to check out all the babes that are competing. These ladies are true vixens and know how to get a man throbbing down below.
Tags:
2012 Olympic Games
Alex Morgan
Brazilian Volleyball Team
Federica Pellegrini
Leryn Franco
Sexy Female Athletes
Stephanie Rice